Monthly Subscription Fees
Newborn to 17 years old           $40 per month, 1/2 price for 3+ children
18-60 years old                           $80 per month, 1/2 price for spouse
61+ years old                            $110 per month, 1/2 price for spouse
Family Plans: Spouse is 1/2 price. 1st two children are $40 per month. 3 or more siblings is $20/month.
$99 One Time Registration Fee per Family or Household.
Call or email for business subscription plans.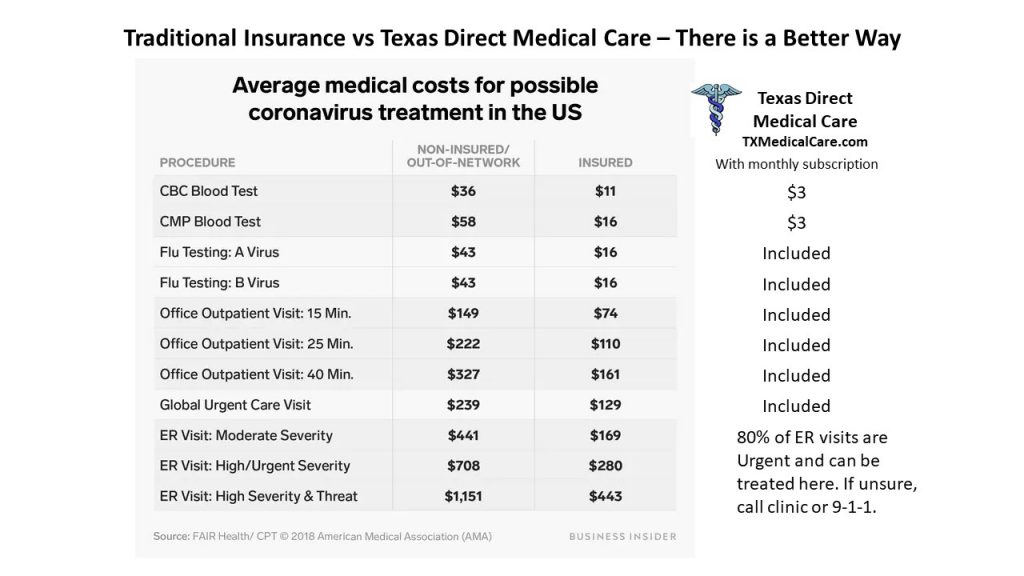 To Register, click on the Register link on the right side of the screen and fill out the short form and provide us with your detailed medical history.  Then, review and sign the Doctor-Patient Agreement.
This is off-the-street pricing for non-members:
School and Camp Sports Physicals $25
Dept of Transportation (DOT) Physicals $100 – without alcohol and drug testing
Urgent Care services available for new patients with sign-up for 3 months. This is 5-10 times cheaper than a single ER visit and often cheaper than one traditional clinic or urgent care visit.
Member Services & On-Call Urgent Care
We treat most common chronic and acute conditions, including:
Urgent Illnesses and Injuries
Fractures, lacerations
Cold and Flu
COVID-19 Testing and Treatment
Hypertension
Diabetes, type 1 and 2
Cholesterol and Heart Health
Athletic and Sports Injuries
Infections, UTI's, Abscesses
Allergies
Asthma
Migraines
Acne and Common Skin Conditions
Sports or Work physicals
Chronic Pain Management without opiates or narcotics 
For services not provided we will coordinate for specialist care or counseling.  We treat many other conditions. Call or email for details.
We do not prescribe chronic use of DEA schedule medications (opiates, ADHD stimulants, sedatives).
Labs, X-rays, and Incidental Costs
We pass along savings for additional tests, by only charging you our costs.
Knee and shoulder joint injections are included in subscription
X-rays for $50-80
MRI's only $300-450
Labs – routine labs are just $3-5 each
Crutches, walking boots, and other durable medical equipment are at cost or we can temporarily lend to members at no charge.